A Magical Christmas Holiday in Luxembourg
So you have decided to pack up your merry little family and offer them the ultimate gift during this Christmas holiday: a magical getaway to the surreally beautiful Luxembourg. In this article we would like to offer you a guiding hand in where to go, what to do and other fun facts about the 2022 Luxembourg Christmas Schedule. Hang on to your snowboots, we are in for a ride full of Christmas markets, fairy lights and even a cozy place to spend this magical time at!
Visiting Luxembourg City Winterlights
The Winterlights festival this year is open from the 18th of November 2022 until the 8th of January 2023 so any visitor will have ample time to experience the spirit of Christmas.
The festival transforms Luxembourg City into a true winter wonderland complete with Christmas markets all across the city (there are 5 in total, just in the city of Luxembourg). Besides the markets, there are also concerts, exhibitions and performances plus there are regular workshops aimed at children.
In the 100 chalets set up in the city centre and Gare neighbourhood, your holiday dreams will finally come true and you will have the opportunity of getting unique Christmas decorations, craft products, toys, clothes, jewellery, confectionery, food and drinks and try out rides with the entire family.
You will be able to marvel in all of these at the following spots:
•"Lëtzebuerger Chrëschtmaart" on the Place d'Armes
•"Knuedler on Ice" on Place Guillaume II
•"Wantermaart" on the Place de la Constitution
•"Niklosmaart" at Place de Paris
•"Solidaritéitsmaart" in the Grand-Rue at Roude Pëtz
Walking from market to market, while discovering the the city's marvelous squares and streets, you will be accompanied by colorful light installations and twinkling fairy lights which set the city aglow and have the potential to cover you in a warm, peaceful happiness, only known to those who are in love with this particular holiday season.
So get yourself a mulled wine, enjoy some fresh potato pancakes (Gromperekichelcher) and even get a ride on the enormous, glowy Ferris Wheel situated at the Place de la Constitution!
Quaint and charming Christmas Markets in Luxembourg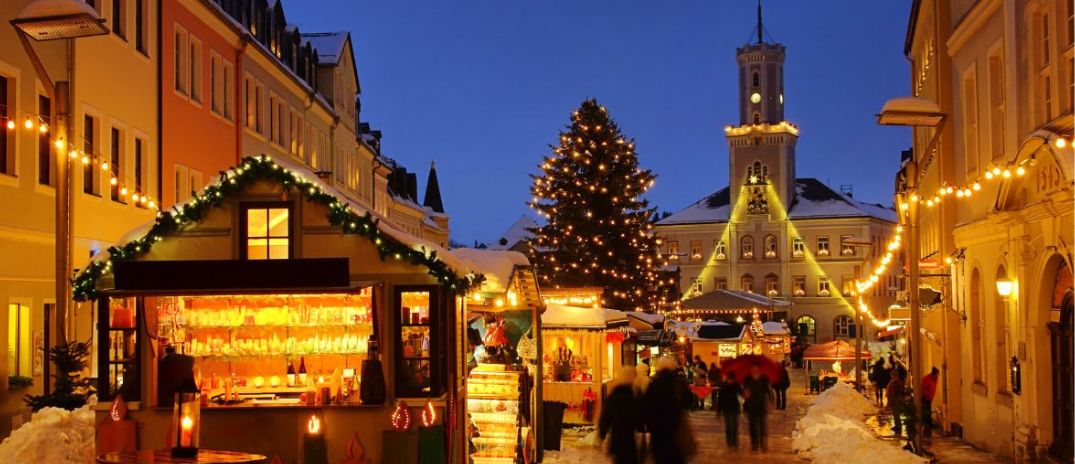 Once you leave behind the glorious festivities of the Winterlights in Luxembourg, you can still dip your toes into smaller, more intimate Christmas Markets in pictoresque little towns such as Differdange, Clervaux, Ettelbruck and Echternach.
These have their very own charm and should be experienced at least once in a lifetime. Due to the fact that the organizing communities are smaller, you will have the chance to mingle with the locals, experience their heartfelt hospitality and try specific, regional delicacies right from their origins - the way these should be experienced.
The Clervaux market for example enchants with the promise of a Winter Wonderland, where you and your family will find yourselves encapsulated by the beauty of winter during two weekends in December: from the 2nd to the 4th of December and on the 11th of December, complete with a charming Christmas Market.
Take a leisurely walk through town, get a hot cup of expertly spiced mulled wine, fill your pockets with traditional winter specialities such as hot chestnuts and enjoy the entertaining seasonal programme. The market itself will have everything you might need for decorating your home for the holidays and even handmade, special christmas gifts you won't be able to find anywhere else. It is also a great way of offering support for local craftsmen, small business and people who to this day create products by using traditions which are hundreds of years old.
Here is a list of Christmas markets in Luxembourg full of small-town charm:
•Christmas Market in Differdange
•Dudelange Medieval Christmas Market
•Eechternoacher Chrëstmoart
•Christmas Market Esch-sur-Alzette
Domaine la Sapinière - a moment captured in a snowglobe
All of this Christmas spirit can be heightened even more by choosing the ideal place to stay during your visit to Luxembourg. The perfect place to call home for a few days should be far away from crowds and close to nature and to the snowy landscape if December decides to bless us with a "postcard Christmas" this year.
Domaine la Sapinière is a cozy holiday park located in Hosingen, Luxembourg very close to Clervaux. The wintery hills of the area offer a dreamy backdrop to a place where you can snuggle up and celebrate Christmas with friends and family.
Here, you can be sure nobody holds back when it comes to Christmas. The holiday park goes all out when it comes to creating a fabulous winter wonderland complete with lights and decoration, showcasing an atmosphere similar to a perfect winter moment captured in a snowglobe.
The holiday park offers houses of many different sizes, so it can be the ideal spot for a couple looking for a romantic Christmas stay but can also host families with 3 or 4 members friend groups of 6 or even 8 and 16 people in a single comfortable holiday home with everything a person may need during their stay.
No matter how many people you have in your immediate family or friends group, you all have the chance to spend that picture-perfect holiday in the heart of magical Luxembourg.
Pack your bags, tell Santa your address for the holidays and spend some happy moments with your loved ones.