Indian Summer: Your Dream Holiday in the South of Europe
As the vibrant hues of summer gradually fade away, a different kind of magic begins to unfold in the South of Europe.
With its gentle breeze and milder temperatures, autumn breathes new life into picturesque landscapes and charming regions. During this transformative season, vacationers seeking an idyllic retreat are wise to venture out and get their pick out of an abundance of holiday homes with swimming pools.
I am sure you have a mental note of yourself somewhere in the South of France or Croatia in a perfectly cut bathing suit, some 60's inspired cat eye sunglasses, a gorgeous oversized sunhat, and only a light breeze and your loved ones by your side, sipping cocktails.
This picture is utter perfection but let's be real here…if you choose to go on holiday during the high season, you might get away with the outfit, but not the vibe. What I mean is, that your daydream of being Bridgette Bardot in the movie "Contempt" and freely swimming in the sky-blue sea under the sun would be rudely interrupted by entire families screaming (which is actually just them talking), people getting their hands on your favorite sun-bed and everyone messing up your landscape pictures with their presence.
To avoid this, you can choose to wait, go on shorter trips during summer, and plan an Indian Summer getaway where you can freely slip into the before-mentioned daydream sequence and act like you are the main character of your very own movie, happily frolicking in your private swimming pool and walking around dreamy little towns with much less tourist traffic.
In this blog post, we invite you to explore the undeniable allure of an autumn getaway to the South of Europe and discover why choosing a holiday home with a pool is an absolute stroke of genius.
A Tranquil Escape during Indian Summer
Autumn in the South of Europe provides a respite from the hustle and bustle of the peak tourist season. As summer draws to a close, the crowds dwindle, creating a peaceful ambiance that allows you to truly immerse yourself in the destination's natural beauty.
Imagine waking up to the serene sounds of leaves rustling in the wind, sipping your morning coffee on a sun-soaked terrace, and plunging into a refreshing pool to start your day. With a holiday home as your sanctuary, you can relish in the tranquility and revel in the beauty of autumn's awakening.
So basically, opting for a holiday home with a swimming pool grants you the luxury of privacy and flexibility. Instead of contending with crowded beaches or bustling resorts, you can design your own vacation schedule. Whether you prefer a lazy day lounging poolside with a good book, hosting a barbeque with loved ones, or taking a refreshing dip at any time that suits your fancy, a private swimming pool offers unparalleled freedom to create your ideal holiday experience.
One such location is Villa Liza located in Hvar, Croatia.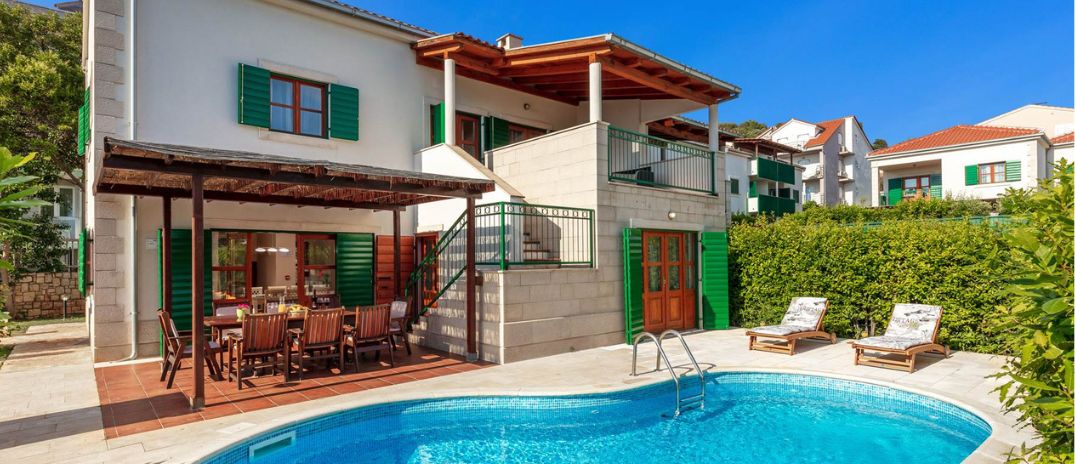 Hvar, the renowned Croatian island, stands out as the most celebrated among all. Its reputation thrives on its exquisite turquoise waters, fragrant lavender fields, an impressive annual sunshine count of 2,800 hours, and vibrant nightlife. Additionally, people appreciate Hvar for its rich history and culture, picturesque countryside, secluded coves, cuisine, and exceptional local wines.
Villa Liza offers accommodation for up to 8 people and is located 50 meters from the sea and its sparkling pebbled beaches while a pleasant 15-minute walk along the shore will bring you to Hvar town center, no huss and no fuss.
This pristine house has everything you and your friends or family may need for your holiday, starting with a large, fully equipped kitchen, comfortable large beds, a common area inside, and a terrace created for sipping wine and spinning stories.
The pièce de résistance without a doubt is the swimming pool, which will ensure a great holiday, creating a safe space to just hang out and perfect our cocktail preparation skills (which is undoubtedly one of the most important skills in life).
Another wonderful opportunity is a trip to Corsica, France.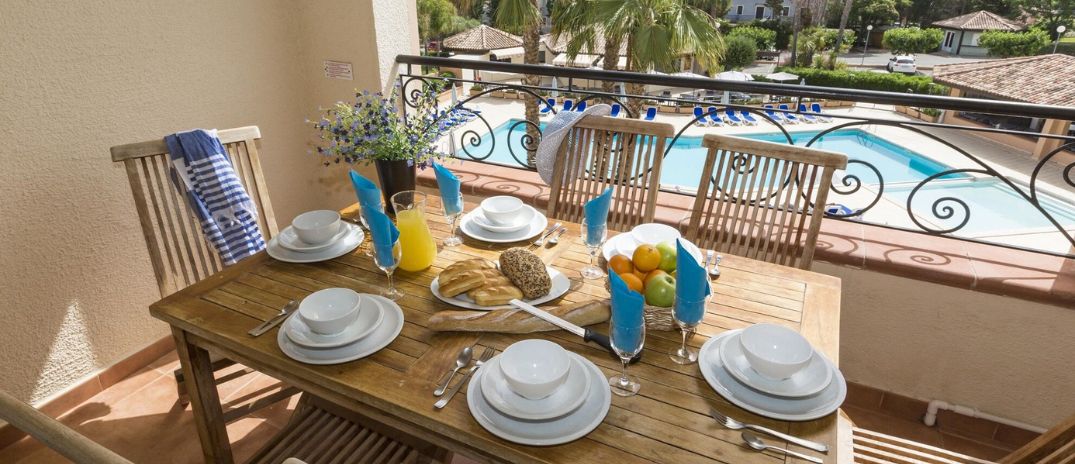 Corsica, an island of captivating beauty, offers the unique ability to transition effortlessly from idyllic beaches to towering mountains within a mere few hours. Its allure lies not only in its picturesque landscapes but also in its distinctive gastronomy and vibrant culture, all of which contribute to its undeniable charm and character.
Located on the east coast of the island of Corsica, Bravone is a seaside resort that awaits visitors with all the necessary ingredients for an unforgettable holiday. From beautiful creeks and large, sandy coves to breathtaking beaches, you will find everything you might need in this resort, which lies between Bastia and Porto Vecchio.
The home itself is a comfortable 2-room apartment suitable for 4 people and has a fully equipped kitchen and ample lounging space inside and outside on the terrace. The resort itself has a large, pristine pool with lounge chairs, where you can meet other like-minded individuals or you know…not, and just simply read that book you have been postponing for the last 3 months.
Basically, autumn is a season known for its tranquility, making it an ideal time for relaxation and rejuvenation. A holiday home with a swimming pool becomes your personal oasis, providing the perfect setting to unwind and escape the stresses of daily life.
Plus, the off-season often brings reduced rates and more affordable options for holiday accommodations. By opting for a holiday home with a swimming pool during this season, you can enjoy excellent value for money. So why not experience the luxury of a private pool without breaking the bank, allowing you to indulge in a lavish retreat without compromising your budget?