Three Different Types of Easter Holidays in Three European Holiday Parks
Easter is a time of renewal and celebration, and what better way to enjoy the holiday than by spending it in a holiday park in Europe?
With its beautiful landscapes, rich history, and diverse cultures, Europe offers a wealth of opportunities for a memorable Easter getaway. In this blog post, we'll explore some of the best holiday parks for spending Easter and what makes them so special.
Domaine La Sapinière holiday park in Luxembourg
Holiday park Domaine la Sapinière, is the ideal destination for a holiday in Luxembourg. This gorgeous holiday park is located at an altitude of 500m at the foothills of the Ardennes region, close to the picturesque towns of Clervaux and Vianden. If you choose this park as your Easter Holiday destination, be ready to experience a wonderful natural setting combined with beautiful castles and bustling little villages.
The park itself is full of things to do, your family can enjoy a gorgeous breakfast and enjoy the sun on the terrace of your holiday home and even take a dip in the heated pool. Children and adults alike have the chance to delight in a game of mini golf or even play tennis under the spring sun.
The Easter holiday is an important event for families, so depending on the size of yours, Domaine La Sapinière offers different options for your specific needs. Smaller families will have a grand time in a 4-person house such as the Sapinière Type D. This house offers a complete kitchen, a terrace with comfortable furniture, and two bedrooms on the first floor with box spring beds inviting you for a great night's sleep.
For bigger families, the 6-person Sapinière Type F06 Luxe is the ideal spot, with a hidden secret, ready to warm your body and soul: a built-in sauna!
The park can't wait for springtime and Easter to roll around, all while the entire surrounding area and Luxembourg in general are going all out with different kinds of celebrations and activities for the Easter time-period.
While staying at Domaine La Sapinière holiday park, you will have the chance to experience the following:
Éimaischen in Luxembourg city
On Easter Monday small whistling birds made of baked clay (Péckvillercher) are sold at the "Marché-aux-poissons" (behind the Palace of the Grand Dukes) and in the streets of the old town. The day will feature appearances by various folklore groups performing songs, dances and music at the Marché-aux-Poissons, outside the National Museum of History and Art.
In addition to the stalls and program of entertainment, the City of Luxembourg will also be hosting free face-painting sessions for children, from 10:00 to 17:00, at the intersection of Rue du Rost and Rue de la Boucherie.
Crafts market in Luxembourg city
The crafts market will be held on Easter Monday, in the historic alleyways of the Old Town, in the Marché-aux-Poissons, Rue du Marché-aux-Herbes, Rue de la Boucherie, Rue du Rost, and Rue Sigefroi.
Along a 500-metre-long stretch, visitors will find stalls and stands offering items such as ceramics, pottery and craft workshops created in Luxembourg and abroad.
Bunnies in Clervaux
During the "Cliärrwer Ustermaart", there will be a lot going on around the castle and the abbey. On Easter Monday, visitors will enjoy a horse-drawn carriage parade, live music and a market dedicated to craftsmen who will exhibit their most diverse creations, from jewelry to wooden art and textiles and there will also be entertainment for children.
Ouschter Sënn'satioun to Lullingen
During the Ouschter Sënn'satioun in Lullingen, games and fun activities are proposed for the entire family, with an Easter egg hunt, The Sënnesräich park being decorated for Easter and special photo spots offered to visitors. Catering is also provided but you will have to purchase tickets in advance.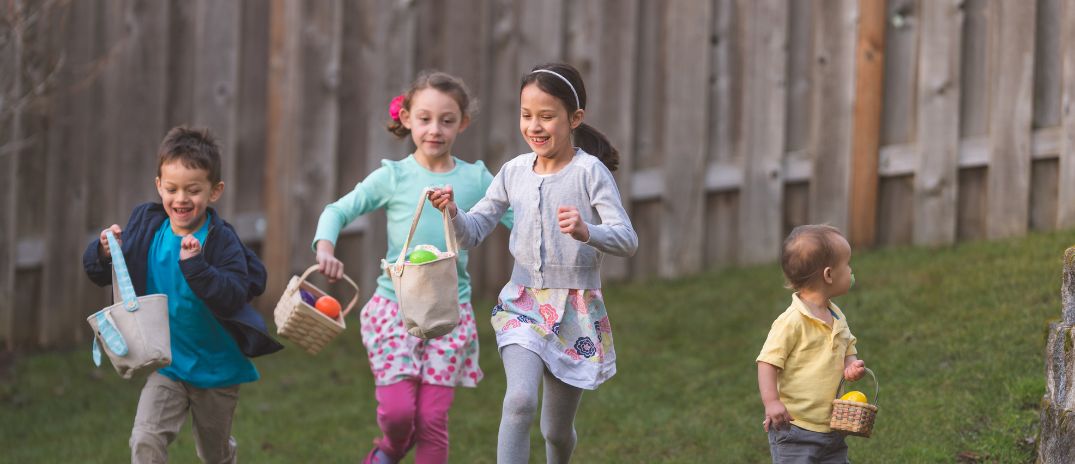 Vallée les Etoiles in Belgium
Vallée les Etoiles is located in the beautiful Belgian Ardennes, surrounded by picturesque scenery, including forests, rivers, and rolling hills. This makes it an ideal destination for nature lovers and those looking for a peaceful retreat. The Belgian Ardennes region is steeped in history and culture. Visitors to Vallée les Etoiles can explore nearby castles, historic towns, and museums. There are also many local breweries and restaurants that serve delicious Belgian cuisine.
During the Easter holiday period, Vallée les Etoiles offers a range of themed activities, including Easter egg hunts and you can also enjoy the springtime scenery and wildlife, as well as the many blossoming flowers in the surrounding countryside. On Sunday (09.04.2023), the Easter Bunny himself will arrive at the park together with Happy Benny, the park mascot, and there will be an egg hunt for all children aged 0 to 12 years old. Guests can find information about this egg hunt on the Notre Guide, at the reception and at the children's "Kinderhofje".
Each guest can also choose to do the special Easter "TREASURE TRAIL". You can ask for this at the reception, answer all the questions and receive a gift when you drop it off.
Also, from the 1st of April, the Happy Corner will be open for breakfast, complete with local beers, coffee with waffles or pancakes, ice cream and snacks and it will be completely decked out with Easter decorations.
A smaller family can easily opt for a 4-person chalet, such as the Le Soleil Comfort, complete with a large living room with a sitting and dining area. You will find a complete kitchen, a decorative fireplace, and two comfortable bedrooms with box spring beds. Outside a covered terrace awaits your long conversation which pours into the night and the stars are a welcome bonus on the deep blue sky.
La Lune Comfort is a 6-person freestanding chalet with three bedrooms containing 4 box spring beds and a set of bunkbeds.
Vallée les Etoiles holiday park is not the only place getting ready for Easter in Belgium, so around the park you will find the following:
Egg hunt on the Bocq train
Get aboard an authentic panoramic railcar from the 1950s for a guided ride through the Bocq valley. Departing from Spontin station, the journey of about 1h30 will first take you to Ciney before returning to Spontin and pursuing to Bauche, the present end of the line. From Bauche, the train returns to Spontin, the end of the journey. During Easter, young and old can go on an adventure in the Bocq valley to find the eggs which were stolen by Orvo the rabbit.
Chocolate in the Annevoie Gardens
Belvas is a fair trade and organic Belgian chocolate factory. From assuring that the chocolate, vanilla, and coffee growers are fairly paid for their quality work through Fair Trade Certification, to guaranteeing that all the ingredients are organic, GMO-free, and never including any preservatives, colorings, flavor enhancers, or hydrogenated fats - this chocolate is as good for you as it is for the environment. A big egg hunt is organized with Belvas, where you will be able to taste their unique creations.
Parc Maasresidence Thorn in The Netherlands
Parc Maasresidence Thorn is a gorgeous resort located in the heart of the Dutch province of Limburg, surrounded by beautiful countryside and the picturesque Maas River. The resort offers breathtaking views of the surrounding landscape, with plenty of opportunities for hiking, cycling, and other outdoor activities. It also offers a range of luxury accommodations, including spacious holiday villas, waterview apartments and maisonettes. These accommodations are equipped with modern amenities, such as fully equipped kitchens, comfortable beds, and large living areas. Guests can also enjoy private terraces and gardens, providing the perfect spot for outdoor dining and relaxation.
The resort offers a range of activities for visitors of all ages, including a heated swimming pool, a playground, and various sports facilities. Guests can also explore the nearby Maasduinen National Park, visit historic towns such as Roermond and Thorn, or take a boat trip along the Maas River. During Easter Holiday, the Kids Club will be filled with laughter and fun, because the animator team will be hard at work at entertaining the children who will be spending their Easter holidays at the resort.
This place has something for everyone and a well-thought-out accommodation plan for different needs and preferences. For example, if your family also includes small children, the Kids Special villa type is the way to go. Here, children take center stage thanks to the special children's bedroom, a private corner in the living room with play furniture, an enclosed garden, and access to a large private play area. Amenities such as a highchair, a baby bed, and gates for the stairs are available in each villa. Children feel completely at home here and the parents keep an eye on them from the terrace. You can choose from an entire range of sizes, from 4 persons up to 12 persons, depending on the size of your family or friend group.
During Easter, you will have many activities to choose from even outside of the resort, such as:
The Easter Market in Panningen
The annual Easter Market is a household name in the region and beyond. Throughout the center and several streets around it you will find various markets and stalls, where you can shop to your heart's desire and enjoy a snack and a drink.
Museum of Thorn
The Thorn Museum believes in innovation, but it is also proud of its past and underscores that sentiment with an exhibition that recalls 30 years of exhibitions on Thorn's history. Also, on display during your spring stay will be items from the depot which have never been shown before.
Guided tour of Thorn
You can walk through the village at your leisure and at the designated places you will be able to stop and listen to the information with the help of your phone. These tours not only offer dry facts but also the stories about the people who have lived in Thorn in the past.
Designer Outlet Roermond
With a beautiful location just a 3-minute walk from Roermond's historic center, Designer Outlet Roermond offers all your favorite designer brands, the latest trends and a wide range of dining options.