Valentine's Day Gifts for the Traveler in Your Life
You have done it all. You have seen it all. You have offered flowers, chocolate, greeting cards, the occasional romantic dinner and still Valentine's Day keeps rolling around year after year and you would like to give your all and be creative every single time.
Well, if your significant other is a traveler, you are in luck! There are so many things you can offer if your very special person is a true globetrotter! We have created a short and sweet list which will hopefully give you some inspiration for many years to come.
The obvious gift: a romantic getaway for two
Take this opportunity to make memories and create lasting impressions. A romantic trip is the perfect way to do this, and you don't even have to plan a whole grandiose event. You can make a weekend out of it and find a cozy, comfortable setting where the two of you can break away from your everyday lives.
Traveling together helps strengthen the bond between partners. Spending time in a new place, exploring new sights, and trying new things can bring you closer together and increase intimacy.
For a romantic getaway in the heart of Europe, in an ancient woodland area in Belgium, opt for a place such as Vallée les Etoiles and one of its quaint cottages built for two.
The practical gift
A portable charger is a must-have item for any traveler. It ensures that they never run out of battery while they're on the go, and it's a practical gift that they'll use every day. There are so many types out there these days, and you can choose the ideal type out of some elegant, ECO-conscious designs. Opt for a design that has at least 10.000mAh power in it with one charge and select a casing type created out of bamboo, eco-fibre or reused or reusable materials.
The thoughtful gift
A travel pillow is a great gift for anyone who spends a lot of time on planes, trains, or buses. It provides comfort and support for the neck and head during long journeys, making traveling more relaxing and enjoyable.
This is such a thoughtful gift when you truly think about it. It is a simple way of showing that you care, by making someone's travels just a little bit easier and more comfortable.
There are so many travel pillows out there with a lot of personality. For Valentine's Day, we recommend finding a unique one, which goes well with the personality of your partner.
The well-planned gift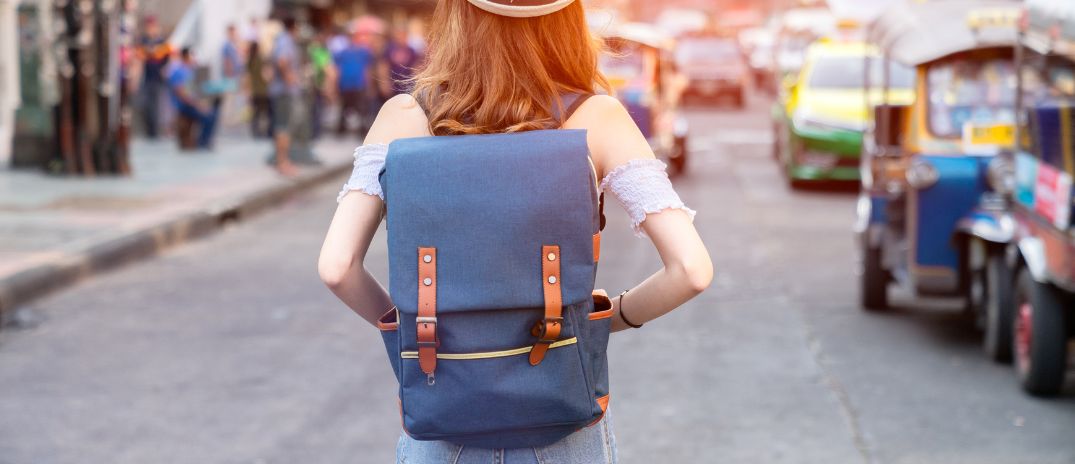 A lightweight backpack is a versatile gift that's perfect for the traveler who's always on the move. They can use it to carry their essentials, as a daypack for their excursions, or as a carry-on for their flights.
The globetrotter who stole your heart knows a few things for certain when it comes to lightweight backpacks:
Even though they are lightweight they should be waterproof, because most of the time all their valuables will be stored in one bag, especially if they enjoy traveling light
Reinforced straps are a must
Colour is important, especially if you want to able to spot a bag from afar or in a crowd
Pockets, pockets, pockets
One of the best small, colourful bags in the world are the Fjallraven Kanken, but be sure to select one with a reinforced strap, because the thin-strapped type can cause some discomfort when the backpack is full.
The gift that keeps on giving
A camera is a great gift for the traveler who loves to capture memories and moments on their travels. Whether they're a professional photographer or just enjoy taking photos, they'll appreciate a camera to help them capture their adventures.
But in this case, we would recommend thinking outside of the box and choosing a polaroid camera. Why? Because it offers endless fun for the two of you. There is something magical in only having 10 or 20 frames at once because these types of cameras only accept 10 or 20 package films. This limits your choices but also opens your eyes to the important moments and surely you won't waste a valuable frame for something inconsequential.
Lomography is a great place to start looking at these beauties, and they make a colourful and fun Valentine's Day gift.
The perfect gift for planners
A travel journal is a great option for the traveler who loves to document their experiences and memories. It's an item where they can jot down their thoughts, sketches, and notes, and it's a perfect keepsake for them to look back on after their trip.
It is also a great way to keep track of your adventures together. Here you really do have some gorgeous choices.
You can go the traditional route and find a beautiful notebook or grab a specially designed travel journal, which has been designed for people who truly enjoy traveling.
The reimagined classical memento
It is a hybrid gift, because it combines the lovely aesthetics of a world map with the fun part of journaling. The two of you can use the scratch map as a traveler's log and scratch off all the places you have already visited together. If you are dreamers, it can also be used as a wish-list and unveiling the colourful places you will be visiting is a great glimmer of light on the days leading up to your travels!
Whether you choose one of these gifts or come up with your own unique idea, your special person is sure to appreciate the thought and effort you put into making their day special!